R@H Update: ConferenceBeat Event App

Clients love the added functionality native mobile apps provide.
Apps are downloaded to user devices for quick access. Users receive push notifications so they never miss a conference update. Easily share and export info, photos, maps, and locations.
However, they don't come without their downsides.
Needing certain materials ready weeks before an event, waiting on Apple's App Store approval, and having to pay a higher price point are all barriers to building a native app.
What if instead, you could hub your event in an already existing native app? What if you could skip the wait and download your app from day one? And what if your event in this app could still be branded to your organization?
Now you can with the ConferenceBeat Event App by Results@Hand!
Native App Functionality at an Affordable Price
The ConferenceBeat Event App hubs multiple client events.
The first screen users are greeted with is a list of current and past events, as we keep events live for at least 30 days post-event.
Users can scroll through the listing to locate their specific event and tap the event to read it's details.
To open the specific event, tap "Go to Event".
Once the event has opened up, users will have to sign in to see all the app's information. This prevents unwanted users accessing your private event details and features.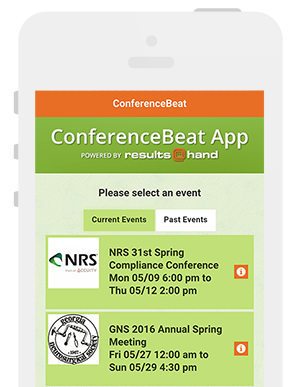 Get Started with the ConferenceBeat Event App Today!
Starting price for a standard single event in the ConferenceBeat Event App is $1,750. This includes all the basic necessitates of a mobile event app including an agenda, user profiles, push notifications, session materials, and more!
If you are interested in supporting your event with the ConferenceBeat Event App, please fill out our contact form or send us an email directly at info@resultsathand.com.