R@H Update: Build Your Own In-App Games

In-app games are a great way to engage attendees at events.
Which type of game you want to host depends on the goal of your game. Do you want to increase attendee networking? Teach members more about your association? Entice participation with a prize for the winner?
No matter the goal, we have an in-app game for you!
Scavenger Hunts
An in-app scavenger hunt is a Q&A networking game. Users will answer questions based on the event or can be pointed to locations to find the answer to the question. This can be at the exhibit hall, venue, or late night reception area. Have individual attendees complete the hunt or put people in teams to fuel competition. 
Scavenger hunts are a great way to promote exhibitor and sponsor networking. Include your event supporters in the fun by having attendees visit booths for answers/ codes to proceed through the hunt.
You can even increase the fun by adding photos into the mix! Have attendees take pics with certain sponsors, at key areas in the venue, or doing fun activities.
Quiz Bowls
As opposed to a scavenger hunt, an in-app quiz bowl is set of questions where users compete to get the highest score (most correct) the soonest. 
Quiz bowl questions can be based on the event, organization, "educational concepts" or anything really. Just keep the goal of the game in mind when deciding your questions
Make the game all your own by setting the score to pass, adding an attempt limit, and choosing to show the correct answer after so many attempts. You can even drive attendee competition further with a live leaderboard!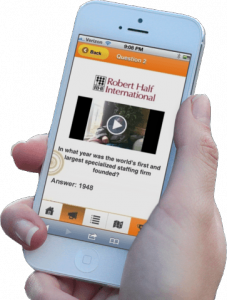 Want to Build Your Own In-App Games?
All premium app clients can get this feature added to their app at no cost. Just contact support@resultsathand.com and ask about the gamification feature.
Interested in adding games to your standard or basic app? Please complete our contact form and ask about our gamification feature add-on for a personal quote.