Our Event Management Tools power hundreds of conferences, seminars & trade shows each year.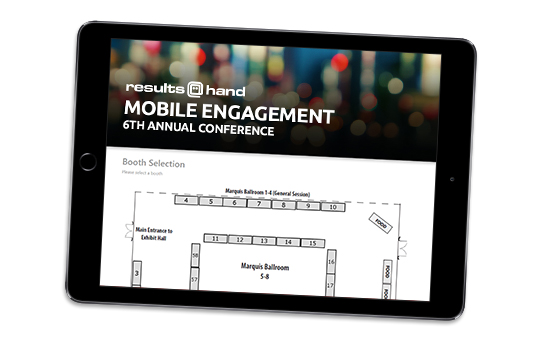 We're with you every step of the way.
From registering attendees to creating agendas and collecting post-event feedback, our integrated Management Tools take the stress out of each phase of event planning and execution. Everything you need before, during and after your event can be controlled from one place: our easy-to-use Admin Portal.
Before Your Event: Must-Have Management Tools
Online Event Registration
Sell tickets, offer promo codes & send automated order confirmation emails — all with industry-low transaction fees.

Schedules & Agendas
Create easy-to-use event schedules and agendas complete with topic, date/time, speaker, location & full descriptions.

Exhibit Hall Maps
Build interactive exhibit hall maps from static image files, then sell vendor booths, sponsorship and show session locations.

Custom Branding
Make the app your own by changing the backgrounds, colors, icons and logos to match your organization's unique branding.

Speaker Portal
Invite speakers to their own, individual portal where they can create polls, upload materials, see who's signed up to attend their sessions &  more.

iTunes & Google Play Compatibility
Let your members & attendees easily find and download your custom Event App from the iTunes and Google Play stores.
Speaker Submission
Allow potential speakers to send in their session submissions, then easily manage the approval process from the admin tool.
Marketing Tools
Get the word out! Share your registration page, exhibit hall maps, agendas and more on your website, social media and email campaigns.
NEW integrated Online Registration with FREE Name Badges!
Announcing free name badges to accompany our event app! With support for a number of print-ready layouts and the ability for you to customize your own badge, the options are endless! Print a single badge last minute at your event, or use our template to print badge sheets in plenty of time prior to your event. Want differing formats for speakers, exhibitors, or attendees? You can do that - change it up!
During Your Event: Must-Have Management Tools

FREE Name Badges
Our custom name badges easily print on standard Avery labels and include scannable codes to track and manage attendance!
Networking & Social
Search the directory and connect with others at the event through messaging, photo galleries, and social media.

Maps & Trade Shows
Navigate the floor with the interactive exhibit hall map. Swap contact info with others and track new leads.

Gamification
Break the ice with trivia or a scavenger hunt! Increase the fun with pics, exhibitors, and a leaderboard.

Audience Feedback
Get honest feedback with audience polling. Show anonymous results in real-time and start discussions.
Notifications
App notifications keep everyone in the know and prompts the audience for interaction when needed.
Education & Accreditation
Track CEU's for certification. Plus notes, materials, tests, and evaluations to enhance any educational session.
Sponsorship & Promotion
Rich sponsorship opportunities await! Earn revenue with your app through banner ads, listings, games, and more.
Take your continued education program to the next level!
Give members access to volumes of study materials and practice tests right on their mobile devices with our Educational Apps!
After Your Event: Must-Have Management Tools
Reporting
Pull real-time data straight from the admin portal to analyze traffic sources, user activity, ratings and more.

Push Notifications
Promote your next conference, seminar or trade show with push notifications after the conclusion of your event.

Lead Sharing
Allow exhibitors and sponsors to download leads directly from their user portal. A great sponsorship feature!

Surveys & Evaluations
Prompt your members and attendees to complete evaluations & surveys to provide feedback on different aspects of your event.

Help / Support Requests
Review what issues your guests had with the venue, schedule, app, logistics and more.

App Cloning
 Setting up next year's event app is a snap! Select the features and data you want to clone, then update new elements and publish.

Speaker Evaluations
Let your speakers access statistics and feedback from their own evaluations & polls directly from their speaker portal.

Advance Marketing
Start promoting your next event NOW! Push early-bird discounts and re-up registration forms to current sponsors, exhibitors, and attendees.
Learn More about Managing Events