Support all your clients & their events with one event app platform from R@H.
... All managed with ease!
Apps for event management companies start at only $499/event*
All events under a single app
Manage Events
Every type of event is supported with our feature-rich event app: conferences, seminars, trade shows, conventions, meetings, and more! 
Event Build
Building an event app is simple with our event-at-a-glance dashboard to get you building with ease. Once you have an event template you love, clone it for the next client or event!
Branding
Simple and flexible brand elements give each event a unique brand, with easy cloning to save your brand template for next time.
Track Event Success
User, activity, and device stats for each event are right at your fingertips. See what works and what doesn't to plan for success.
Manage all client & users
Customer Management
CMS permissions, event features, branding, and participant management can all be uniquely configured for each client.
Exhibitors manage representatives, profiles, and track leads.
Sponsors manage profiles, messages, and game participation.
Speakers manage sessions, attachments, evaluations, and get a sneak peak at attendees scheduling their session.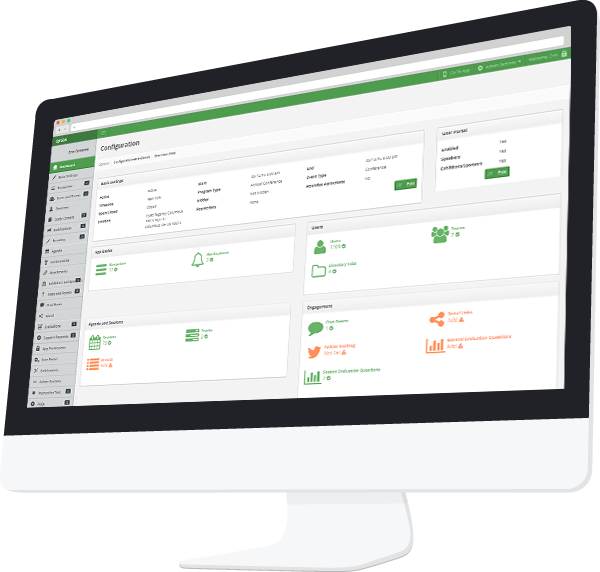 Guests, Speakers, & Vendors
Tailor your communications, schedule, resources, and more to each participate! Our platform allows you to offload setup tasks to the right resources with the right permissions.
Sponsorship Management
Sponsorship opportunities, single or packaged, are easy to manage in the CMS admin portal. You determine the price and keep all of the revenue.
Lead Retrieval 
Swap contact information in the app - no badge scanning required! Exhibitors have instant access to lead retrieval lists via the User Portal.
Surveys & Feedback
Get honest feedback with evaluations and audience polling. Show real-time polling results anonymously and start discussions.
Gamification
Break the ice with trivia or an exhibit hall scavenger hunt! Increase the fun with pictures and a live leaderboard.
Social Promotion & Integration
Members can share pictures and Tweets. Give everyone quick access to Facebook, LinkedIn, Instagram, and Pinterest.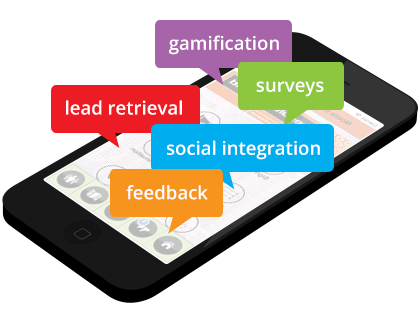 Pricing for apps for EMCs starts at only $499/event*
*May require minimum commitment & configuration fee. Pricing depends on event size and build needs.