What to Ask Attendees in Post-Event Evaluations

We all know the importance of post-event evaluations. They allow you to measure the success of your event and offer valuable insights to improve future events.
Plus, having your post-event evaluations in a mobile event app makes it that much easier for attendees too!
No more handing out paper forms and worrying about collecting all at the end of the event. Attendees can login to their app and submit their evaluation responses all from their mobile devices.
But the question remains: what exactly should you ask your attendees?
Below we have two sets of evaluation questions specific to the overall event and to educational sessions. Continue reading for our top 5 questions to include in each evaluation for you to use at your next event!
Event Evaluation Questions
These questions relate to the overall event experience for attendees. It's important to be broad enough to apply to all event goers while also obtaining enough information to apply to future events.
For your post-event evaluations, we recommend including the following questions:
Overall, how would you rate the event?
Although this question is very general, it gives you a rough idea of how the event went for everyone. Make this question a rank 5 to give attendees options.
Please rate the following aspects (Location, Vendors, Food, etc.) of the event:
Your event is made up by many parts and the best way to ensure all went well is to ask about them. Have respondents rank specific aspects that are relevant to your event on a scale of 1-5.

Was this the first time you attended one of our events?
Asking this will allow you to filter responses by first time vs. repeat attendees to gain a better understanding of who attended your event. This question should be in a simple yes/no format.

How likely are you to attend one of our future events?
This allows you to determine if your event was successful enough to entice future registration. Question should be rank 5 or agree/disagree with multiple options.

How do you think this event could have been improved?
Last question for attendees to add any additional thoughts. The following question should be a text input to allow attendees to express their thoughts.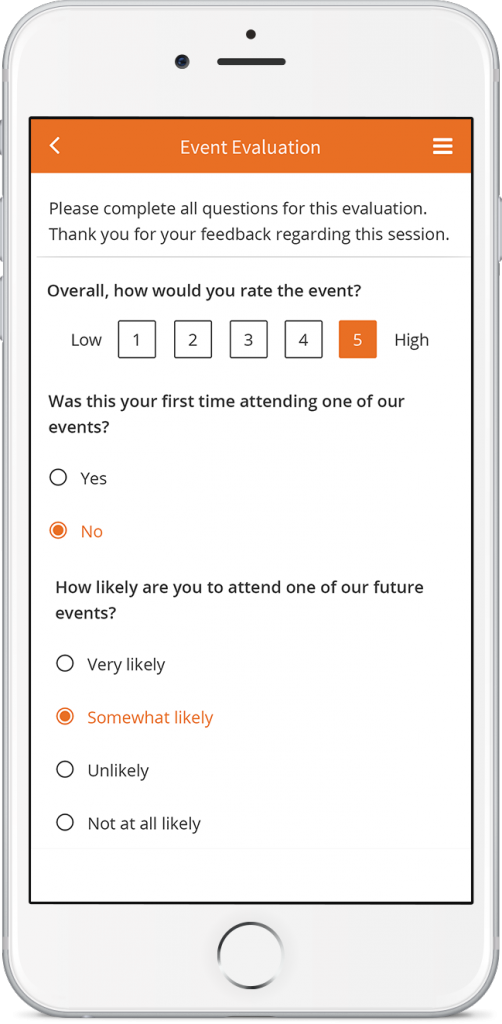 Session Evaluation Questions
As opposed to overall event success, these questions focus on the success of your educational sessions and speaker presentations. It is important to obtain these responses from attendees to ensure your sessions were useful to attendees.
Our top 5 questions we recommend including in your post-session evaluations are as follows:
Overall, how would you rate the session?
Similar to your event evaluation, asking this general question allows you to have a rough idea of how your sessions went. Have the question be in rank 5 format.
Was the speaker(s) knowledgeable about the subject and an effective presenter?
This question allows you to re-book effective speakers and refrain from booking those who are less effective. A simple yes/no format for responses will suffice.

Did you find the content in this session to be relevant and useful?
In addition to the speaker's performance, you also need to ensure the content they are providing is useful to attendees. Similarly, a simple yes/no format will suffice.

What would have made this a more effective session for you?
Although the question is open ended, it can provide some vital insights you might not have otherwise thought of. Have the question in text input format to allow participants to share their opinions.

Is there something else that we should know?
Last question for attendees to add any additional thoughts. The following question should also be a text input for attendees to express their thoughts.
Additional Tips for Participation
Sometimes the biggest challenge of post-event evaluations is getting people to fill them out. If you are struggling with participation, here are a few additional tips:
As with any survey, it's important to keep it short. Nobody wants to spend more than a few minutes completing an evaluation. We recommend about 5 questions for each evaluation.
You can also entice participation with a raffle. Anyone who submits their evaluations within 3 days after the event will be entered to win a gift card, membership discount for next year, or anything really. Honestly, who doesn't love free or discounted offers?
Lastly, keep in mind which questions you require and which you don't. Requiring an open ended question might scare off some attendees and they'll abandon the entire evaluation. To put it simply, only require questions that are easy to answer.