NEW! Results@Hand Online Event Registration

We're excited to introduce our new Results@Hand event registration tool for event planners and organizers! We designed this cutting-edge software to integrate directly into our entire suite of Event Management apps and provide a seamless experience for administrators and (especially!) attendees. No more importing cumbersome CSV files or asking your members to download multiple apps to register, check in & sign up for workshops — we're making it easy from start to finish because, after all, first impressions matter!
Our new online event registration is completely self-service. It takes only minutes to set up your branded registration page complete with your logo, ticket types, payment options & more —no technical knowledge required! But, of course, our live customer support is there to help when you need it.
Event Registration Features
Custom Registration Pages
Create an easy-to-use registration page where your members and attendees can register and begin receiving important information.
Drag and Drop Form Builder
Easily and intuitively add multiple registration types and tickets.
Promo Codes
Offer special rates with promo codes to drive sales or push users to key ticket types.
On-site Check-in
Let your attendees check-in directly from their phone or scan them in when they arrive on-site using an automatically generated QR code.
Interactive Exhibit Hall Map
Pick your perfect booth based on location, your neighboring booth holders and price before you buy.
Seamless Integration
Our Results@Hand registration app works hand in hand with our Event Management app and its entire suite of tools. Special discounts available when you bundle our products!
Instant Analytics
Capture all of your registration and check-in data as it happens, then leverage the data to react to user trends.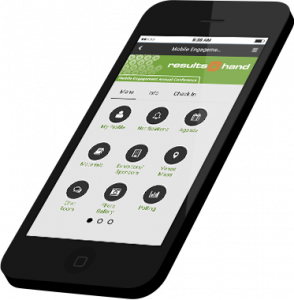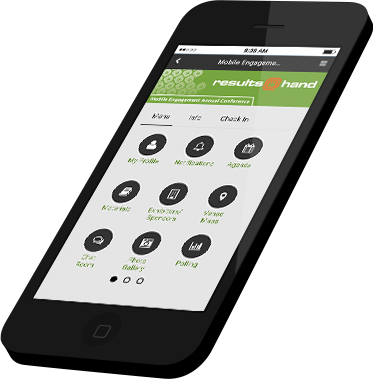 "We have worked with Results@Hand to provide program apps for many conferences and we were really pleased to see them expand their services to include event and exhibitor registration. We have now had these comprehensive resources for several of our conferences and we have been very pleased. Our staff and conference participants report that using the tools is easy and intuitive, and harvesting data from the tools is seamless and accurate. And we have always appreciated the strong client service commitment of the Results@Hand staff."

-Mia Urick
Director of Professional Learning, MASA | MASE
How to Build Your Event Registration Page
Fill in our intuitive event information form with details about your event, location, dates.
Add your event branding
Start with our attendee, exhibitor, sponsor registration form templates and simply drag and drop new fields, etc.
Add your PayPal express API key
Voila, you have a mobile-responsive registration website!