OSAE 2014 Annual Conference Success

The Conference
Again for 2014, OSAE utilized our event app for their annual conference, which was at The Kingsgate Marriott Hotel & Conference Center in Cincinnati from July 23-25. However, conference attendees this year were able to utilize new features through the app for events, such as:
In-App Chat Room– the exclusive chat room is a place for attendees to communicate with colleagues. Topics already included are ranked on likes/dislikes. At OSAE, we noticed many posted details on where and when to meet others, especially for Pub Crawl teams.
Photo Galleries– OSAE offered two different photo galleries for participants to post in. OSAE Memories for moments during the conference and Pub Crawl Photos for photos taken during the Pub Crawl event. Both allowed attendees to view, post, and share their favorite memories with others.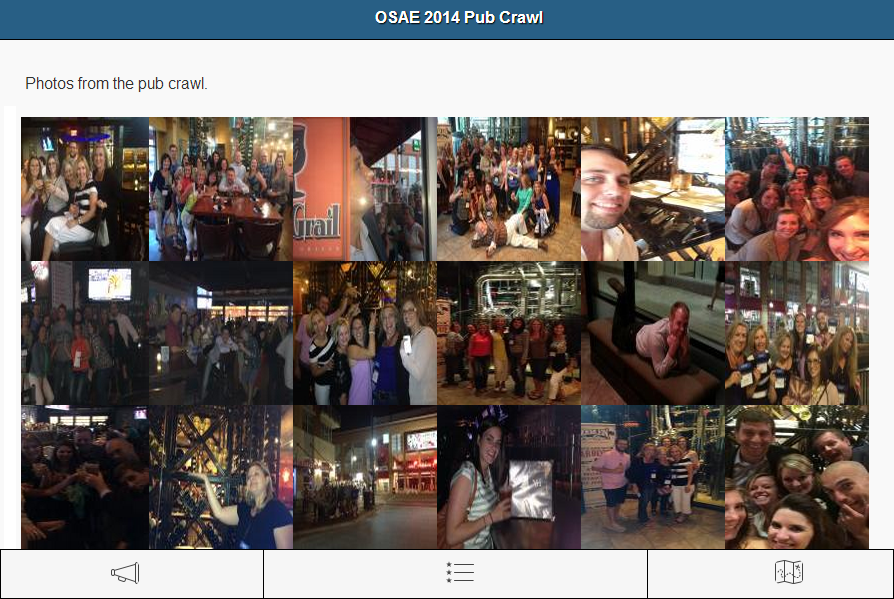 Click for full-size image
The Pub Crawl
Additionally, OSAE hosted their first Pub Crawl this year, which according to the annual conference's chair Halle Runion was, "a fun networking opportunity that allows attendees to learn about the newly developed Banks district of Cincinnati." Presented in the app's Pub Crawl section, participants were given a list of teams with associated city names and mascots to pick from before the event. With teams in place, attendees were able to easily meet and socialize with new people through a scavenger hunt style activity.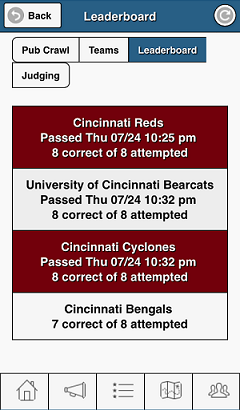 Pubs included in the event were CRAVE, Holy Grail, Moerlein Lager House, and Yard House. Here, groups went to the app to view and respond to trivia questions as well as take pictures related to the breweries. Using a mobile event app easily allowed individuals to take part in the Pub Crawl and even see their progress against others. Furthermore, a Venue Map of the pubs with each team's schedule was also posted for attendees.
When asked why OSAE chose to mobilize the Pub Crawl activity for the Annual Conference, Runion stated,
"We want the conference to always be new and exciting.The mobile app gives attendees the ability to track their progress, interact with each other and the bar, and post pictures to social media. It's great for OSAE, because we're able to share what conference attendees are up to!"
For those who attendeed the OSAE Annual Conference this year, we thank you and hope you enjoyed using the Results@Hand app for events.