Event badges are not just mere printed labels; they're versatile tools that can double as tickets, passports, business cards, medical alerts, credentials, game cards, keys, and so much more! Smart badge systems are the secret weapons of event managers, helping them lighten their workload, boost participant engagement, and forge lasting connections between professionals and attendees.
Beyond serving as identification, name badges have become a means of communication. Exceptional badges elevate and sustain engagement by showcasing a person's details – position, affiliation, company, title, and event role – all wrapped up in an eye-catching design. Want to encourage future encounters? Add specific details like the Speaker's session title or the Exhibitor's booth number, turning your badge into a catalyst for meaningful conversations that extend beyond the first conversation.
A badge isn't just a badge; it's a walking billboard. Selling badge sponsorship provides an excellent advertising opportunity, making every event participant a potential target and ambassador. Think of it as prime real estate for sponsors.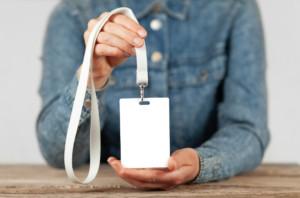 Name badges strike the perfect balance between professionalism and personalization. Customized badges convey the same information as traditional ones but in a more creative and unique way. This creative flair allows individuals to showcase their personality with drawings, stickers, ribbons for a touch of low-tech personalization, or go high-tech with e-ink or LED badges that boast scrolling text and color changes. It's all about being seen and remembered.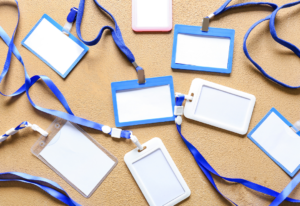 Onsite or On-demand badge systems offer incredibly personalized badges with minimal waste since only attendees get their badges printed. And don't overlook the back of your badge – it's prime real estate for important information. Consider including personalized schedules, game cards, space for medical alerts or emergency contacts, tickets, dietary restrictions/requests, or even a photo. It's all about making the badge work harder for you.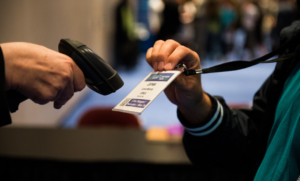 Smart badge systems streamline tasks and ensure a seamless event experience. QR codes on badges integrate seamlessly with event technology, serving multiple purposes. They can provide additional event information (like agendas, maps, and welcome messages), identify users with event lead retrieval app, track attendance for continued education, or grant access to event attractions and represent tickets (think drink tickets).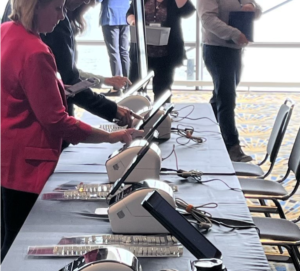 On-demand badge systems add to the convenience, flexibility, and efficiency of the badge and check-in process. Integrating onsite (on-demand) with your pre-event registration system and event app creates a dynamic and interactive experience for attendees; all while streamlining processes and reducing workload for the organizers.
In conclusion, name badges at conferences play a pivotal role in the overall success of an event. They foster networking opportunities, strike a perfect balance between professionalism and personalization, and facilitate conversations among participants.
Now, go ahead and rock that badge with pride! 🌟
Request more information about our Onsite Badge Solution.
Follow us on our socials!