R@H Update: New App Design

For the fifth year in a row, we are supporting the 2016 annual conferences of the Indiana Society of Association Executives (ISAE) and the Ohio Society of Association Executives (OSAE).
At these conferences, we are launching a front-end redesign of our apps!
Continue reading for an overview of our app redesign and for some teaser screenshots.
New App Design
With our latest app design, we have updated several areas of our app to improve usability and provide a more modern look.
With a cleaner and more uniform look, app users will intuitively be able to navigate the app and its features.
Continue reading and see what improvements we have made to the app design.
Side Menu Navigation
We have revamped our side menu navigation to be more personal and user-friendly.
Each section is categorized and labeled accordingly. You can minimize each section so you can focus on what's important to you at the moment.
At the top, you will notice three buttons. The first is our refresh button, which loads the latest updates to the app.
We have also added notifications to the top of the side menu. Notifications are vital for timely communications so placing them at the top ensures users never miss an update.
The last button on the top of the side menu navigation is user profile settings. Simply tap the gear icon to control your user profile settings. Add contact info, control sharing preference, and more.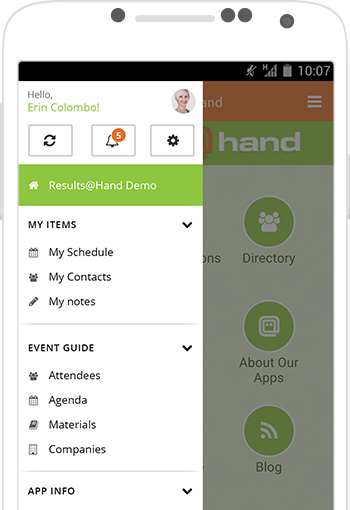 User and Company Profiles
Our update also includes new designs for our directory and user profiles.
The directory now includes profile pictures so app users can easily identify other users in the listing.
We have also added the ability to favorite users within the directory. Just tap the star icon next to the user and they will appear under your favorites listing.
Our user profile has been updated with tabs of navigation. No more endless scrolling through a user profile. Now, you can easily tab through a user's contact information, related sessions and companies, and your personal notes on the user.
Check out our user profile screen and some additional screens of our newly designed features below. Or see our apps in action by requesting a free demo today!