Mobile Event App Best Practices from R@H

Click here for our Mobile Event App Best Practices Brief
For the Michigan Meetings + Events magazine fall edition, we're featuring our article 4 Tips to get the most out of your event mobile apps. The 4 tips we discuss for event professionals are to set goals & measure success, build an app for everyone, promote the app, and use the app to communicate and engage. Within the article, we describe how to implement each tip and why each one is vital for a successful mobile event app.
We decided to take this article even further and created a best practices guide for event organizers interested in working with event mobile apps. Here at R@H, we have provided a custom mobile event app for the MSAE, ISAE, and OSAE Annual Conferences in July. For these events, we worked with the associations to boost app awareness through marketing efforts. Because of these efforts, OSAE native app users increased by 40% and ISAE grew by 49% from 2013 to 2014.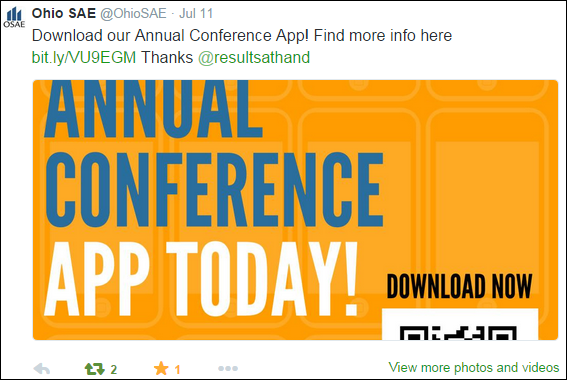 Throughout our Best Practices brief, we include several examples to help illustrate how event planners can truly get the most out of their mobile event app experience. Promotional emails, social media posts, and in-app communications are just a few of the tactics used to generate excitement and app engagement among event participants.
Visit our resources page to download our Mobile Event App Best Practices and other informative whitepapers.