How a Mobile App Can Boost Your Organization's Holiday Celebrations

The Ohio Society of Association Executives (OSAE) just hosted their holiday luncheon and silent auction event last week. Auction donations were provided by generous members to benefit the Charity Newsies, which clothes children across metro-Columbus.
With the help of their year-round membership app, OSAE members could check out holiday auction items and create personalized wish lists from their phones in advance of the luncheon. 
How can a mobile app boost your holiday celebrations?
Photo Gallery
The best way to showcase your auction items to your members is with pictures.
With the help of our photo gallery feature, OSAE was able to showcase their entire auction listing in the app. With the photo gallery, you can add vivid pictures and item descriptions, as well as tag items by donation category and value range. Simply drag and drop your pics into the admin CMS. Now at their fingertips, members can filter the auction item listing in several ways to find exactly what they're looking for based on category, value, popularity, item title, newest listing etc.
Planning purchases weeks in advance, your members can add coveted items to their personalized wishlist and share via text, email, twitter, etc. with others for addition to the Holiday gift list -- all right from their mobile app. The most popular items based on wishlist additions are ranked fueling competitive bidding at the auction, as well as driving new donations.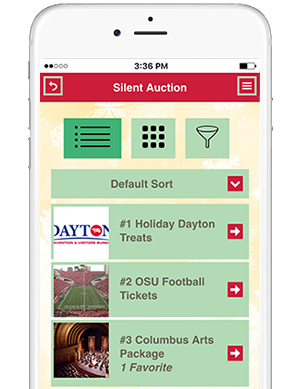 Push Notifications
The holiday season is chaotic for everyone. Sending out reminders to members is a great way to keep them up to date on important deadlines, included those related to your holiday celebration.  That's where push notifications come in.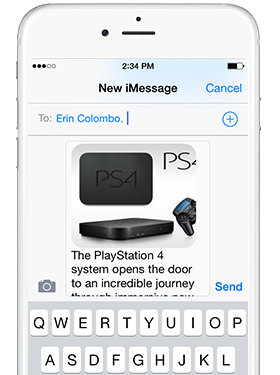 Push notifications, with the user's permission, will pop up right on their device's screen, a quick and easy tool for sending short reminders for important dates and info.
Schedule a "last call for donations" notification the day before auction donations are due. Tell members which auction items are receiving the most attention. Share parking details the day of the event. "Last call for Happy Hour" or "Bidding closes in 5 minutes" are helpful too. We tend to think the more info, the better, but refrain from spamming.
In all of this season's hubbub, your members are more likely to read your succinct push notification at the top of their phone screen then searching their inbox for an email.
Chatroom
Although we tend to get blinded by the madness of the holidays, it's important we remind ourselves to give thanks.
With a chatroom, you can easily provide a very public kuddos, as well as spark a discussion. Ask the opinions of your members to start discussions. How about this holiday season you use your app chatroom and social outlets to ask your members what they are most thankful for from your organization and their own. Or how about "Who" they are most thankful for and why! This keeps the topic relevant while you benefit from their sage insights.
Conclusion
Are you an association hosting a holiday auction or celebration? Need help incorporating mobile into your event? Shoot me an email and I'd love to discuss options!