R@H Connect Feature Video Demo

Our previous blog post, ORGPRO 2014 Enhances Networking with the R@H Connect App, went into detail on how our Connect function can be utilized for networking at events. So now that you know the benefits, we hope to provide informational guidance to those interested in connecting with others through our mobile event apps.
Under the Connect tab located on the home screen, you can view your info, view contacts, and add contacts. Each user has a unique QR code and alphanumeric text under the My Info section. To add a contact, follow the steps below that apply to your device.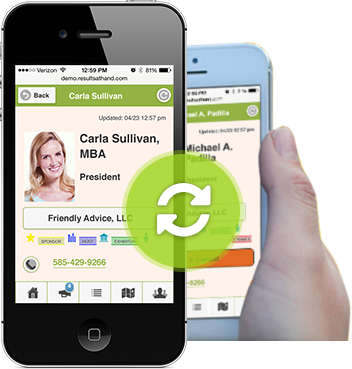 If you are using a personal gadget without camera capabilities, you may enter the contact's personal alphanumeric code to obtain their information. Devices with camera capabilities are able to scan a QR code graphic to obtain contact information in a snap. For those users with Bluetooth enabled devices, simply scan your surroundings for connections to find the contact you wish to save. It is important that the desired contact has enabled their device to Share via Bluetooth so your device can find them.
Once you've collected your contacts at the event, the multi event app lets you easily export your list in an excel spreadsheet. This can be useful for your organization's CRM. Additionally, users have the option to export a single contact into their phone's contact list. These features allow users to develop personal relations with professionals like never before.
View our Networking Demonstration video below for a full explanation on how to share contact information on our multi event app with any device.