Are Mobile Phones Replacing Computers?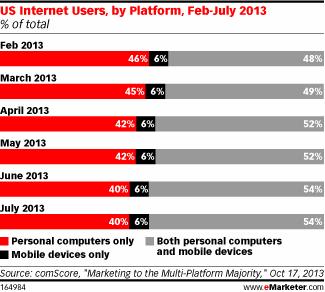 No, but there is a growth of people who use both mobile and desktop devices. This gives the ability for consumers to be able to access content in almost any case or scenario. Whether you are away at a hotel, eating at your local fast food restaurant, or just at home, you are now able to access the internet almost anywhere with any device.
eMarketer shows that people utilize a multitude of devices or only use their favorite device.
So why do you need to know this? Well for your communication with members of course. We can see mobile devices or desktops have not tipped the scale to one side and that many people prefer to use both devices.
We make sure that to this end we support all devices for you and your members, whether your members prefer pc, mac, mobile, or tablet. We provide native and htlm5 association apps for both your and their needs. So you don't have to worry whether your member loves their laptop, macbook pro, or if they must absolutely do everything on their Iphone, Android, Blackberry, or Windows phone, they will always be able to access association apps for your event with your personal branded Results at Hand app.