5 Mobile App Optimization Tips for Businesses

Today's blog post is a guest post written exclusively for Results@Hand by TechnoloJB.
She is a freelance blogger and guest publisher in various B2C and B2B blogs online. She finds joy in sharing her new found knowledge about business, startups, and customer service on her blog entries. Watch out for her blog soon!
---
All leading businesses have started adopting mobile technology in their strategies, as many studies and statistical reports have proven its massive benefit for companies of all sizes. This is especially true for business-to-consumer (B2C) companies as it has been found that 85% of consumers spend their time using smartphone apps.
However, building a mobile app alone doesn't guarantee a higher ROI, as maintenance, marketing and optimization are required to ensure its success. Mobile optimization is the first step to ensure users are engaged. Read on below to find out how you can optimize your business app to help it grow organically.
Understand your audience and competition
To have an effective marketing campaign strategy for your app, you need to know your target market and competition. Have a clear idea of the apps demographics, the intentions of the target audience in using the app and deeper analysis of the competitive landscape. Search for consumer research and understand what your target audience search for to find apps like yours. Likewise, understanding your competition will make it easier for you to set yourself apart by knowing your unique selling point, which will give your audience reasons to choose your app over others.
Must work across all platforms
For the most part, mobile are built with varying specifications, for instance, budget phones tend to have low-range features and smaller screens, while the pricier ones have more premium specifications and a bigger display. To ensure the success of your app, it must be optimized for all screen sizes and specifications, especially the low-range handsets with basic processing power and features. To ensure it works on all devices, it must have a lite version with full features that can work even for handsets with a slow processor. This process is similar to how you would optimize your website for mobile users – the more devices it caters for, the more users you can get on board, which will in turn widen your reach and increase the chances of people returning to use the app.
Expand it through wearables
Mobile apps are no longer limited to smartphones and tablets, as some are now being accessed via smartwatches and VR headsets. Predictions suggest that wearables will reach maturity by 2016, seeing more than 67% annual growth in the past twelve months. Virtual reality is also gaining popularity not only in the gaming sector but also across various industries, especially with the arrival of standalone VR headsets from Samsung and Google. By thinking outside of the box, you are showcasing your company's ability to adopt innovative technologies. Do not limit your thoughts to the present and always consider possible solutions in the future to change the market.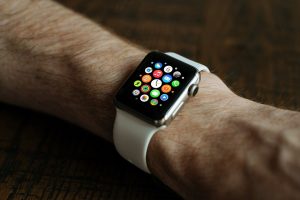 Maintain positive reviews
Product reviews remain an important marketing step, not only for apps but also for all products and services in general, including smartphones. Handsets with higher review ratings define the overall performance of the device, such as the iPhone 6s, which almost a thousand O2 users gave an average of 4.3-stars. It's a high rating considering the many other smartphones have very few reviews. Apple can use this data to upgrade their next wave of mobile devices and overcome any reoccurring problems users have with the device. By receiving good reviews, there's a higher change of getting more downloads which greatly influence your app's rank in the app store. It will also help you further improve your service and maintain your app's competitiveness and efficiency.
Keyword optimize the title and description
In terms of marketing, companies also need to consider the title and description they use for their apps so that they are keyword sensitive. Research revealed that apps with relevant keywords in the title ranked 10.3% higher than those without a title keyword. If your app is catering for a specific location, ensure that you optimize its app listing for local audiences. If there's a necessity to translate the app's title, description and even screenshots, then do so to target the right users. This will improve conversion in international markets.
Building a business app is an important but very costly investment, so every hack you could use to make it successful will be extremely important during the early stages. The aforementioned tips will ensure that you can help drive consumers to your mobile app, so long as you know how to market it the right and effective way.