3 Ways to Sell Mobile App Sponsorship

Do you ever wonder why organizations have sponsors flooding their apps for their events? Well, they are much more important than you may think. Event sponsors can purchase all types of advertisement opportunities on event apps, which allows for the hosting organization to raise money.
So, what does the sponsor get out of this? Purchasing an ad on an organization's event app will lead to more exposure for the sponsor. Because of the frequent use of the app, there will be many eyes on a sponsor's ad.
While the app is being used and sponsors ads are being seen, event-goers are more likely to check out the sponsor and become more involved in what they do. And by being a mobile app sponsor, they can boost their marketing and potential clients.
3 Types of Mobile App Sponsor Ads
Below are three kinds of mobile app sponsorship opportunities provided by Results at Hand:
Banner Ads
A banner ad on the app's homepage is a great way to ensure that users see the ad as this ad appears directly on the app's homepage. Each banner ad has a custom link option, which can take users to the organization's in-app profile, a landing page with an offer, etc.
As users navigate the app, the homepage banner will rotate between 5 unique ads – giving users more viewable ads and you the option to sell more ad space.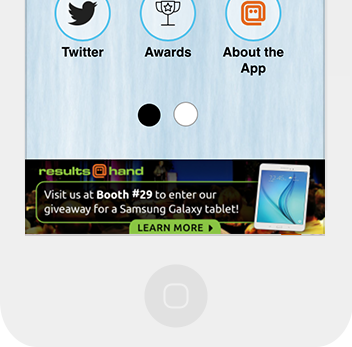 Push Notifications
Push notification ads are great for ensuring that the sponsor's message goes out of its way to be viewed by the user. The push notification ad will appear right on the home screen of the device. With the option to add images, links, and more, this is a great way to promote specific products or limited time offers.
Splash Screen
A more customizable way for sponsors to purchase ad space is through a splash screen. This can be used by the sponsor to promote their entire organization with a logo or the entire space can be used to include more details. Sponsors can breathe easy knowing their ad is the first screen that appears when the app is opened.
Results at Hand offers these unique ad types along with many others. For a better user experience and stronger sponsor crowd, download our free Mobile App Sponsorship Guide. Our guide includes sponsor opportunities in detail, suggested pricing, and more!